Posts Tagged 'softball'
Monday, February 27th, 2012
It's February, yo. Which means, of course, it's Little League time. 'Cause softball started back in January. That's part of the, er, joy, of living in Southern California.
This weekend featured Opening Day of Little League and the first game, AND a softball game for Sage, and of course they overlapped. Sawyer made a brief appearance at Sage's game before leaving for his. When her game was over, we jumped into the car and sped over to Sawyer's game. All while toddler wrangling. I'm still calling him a toddler until he turns three (eeks!) in less than two (holy shit!) weeks. Luckily, David was home and we could divide and conquer. Or at least divide and survive.
Aren't they cute? The reason Xander is not in the picture is because he followed a little girl around for the entire time during Sawyer's game. She shared her fries with him. Clearly a love connection.
I know people who are grateful to have their weekends to themselves but quite frankly if my kids want to play ball (or whatever activity they're excited about), they're going to have to full support of their parents. I could kvetch about driving them all over the place and sitting on a metal bleacher (as if I ever sit while my kids are playing, do you people not know me at all?). But this is what I do, as long as it's what they want to do. Maybe you don't think they'll remember it, they'd rather remember spontaneous family trips. They get those, too, but I absolutely remember NOT being allowed to play. It'd be nice if I could let that go already but holding grudges is so. much. fun. Plus my kids will of course be bitching in 35 years about the times I made them go to practice instead of playing Skylanders or watching Victorious, so it's a beautiful circle of life with which we shouldn't mess.
Also? I'll always have pictures.
Tags: driving all over creation, Little League, Opening Day, softball
Posted in Parenting | 9 Comments »
---
Monday, February 6th, 2012
It was only going to be three days. Two practices and a performance.
Surely that was enough to give Sage her fill – she'd get it out of her system and wouldn't ask again.
Right?
You might know how I feel about cheerleading. So it might surprise you to know that I signed my daughter up for this activity. It was at the high school in the next town, where my friend's husband is the boys basketball coach and athletic director. And their daughter and Sage are friends. I knew they'd have a good time together and I was sure the cuteness would outweigh my, uh, discomfort with the "sport."
Sage said she had fun at the practices but didn't want to show me any of the moves she learned. Friday, I dropped her off at my friend's house. On the way over I asked if she was enjoying cheerleading, and she said no – because it was only three days. Gah.
That night, David, Sawyer, Xander and I headed to my first high school basketball game in more than 15 years, when I used to get paid to cover them for the newspaper. I missed the atmosphere. The kids yelling, the game, the teen girls wearing belly shirts and dancing like they've watched a few too many questionable YouTube videos.
Sage sat with the cheerleaders and the other girls who participated. Then at halftime, they took the floor and did the cutest dance ever. Sage had a big smile on her face the entire time. This is her afterwards, as our real camera's flash wasn't working during the show.
Twelve hours later, she was wearing quite a different uniform.
Opening Day of softball. And hopefully we've seen the last of those pom poms.
Somehow, I doubt it..
Tags: cheerleading, cheerleading clinic for little girls, high school basketball game, softball
Posted in Parenting | 20 Comments »
---
Thursday, January 20th, 2011
I want my kids to play sports.
Yes. I said it.
Sports teach teamwork and respect and competition and how to win and, almost more important, how to lose. Plus, you run around a lot.
It has not occurred to me to search out art classes. I haven't looked for piano lessons.
Not because I don't think these things have value. They absolutely do. It's just not on my radar. Now, if one of them comes to me and specifically asks, then yes, I will explore those opportunities for them (and in full disclosure, Sawyer gets to go to a science camp in the summer).
Let me be clear: my kids play outside, they ride skateboards and Razors and bikes. They run around like maniacs with swords and nerf guns. Sage plays with Barbies and My Little Pony. Sawyer plays his DSi and with his Bey Blades.
They are even allowed to just veg. Because I believe in down time. I do.
But when it comes to extra stuff?
Summer is swimming. Fall is soccer. Winter is gymnastics for Sage and since Sawyer didn't want to play basketball, he got a few months off. But spring? Little League.
For Sage, it's her first year playing softball.
I heard it was cute. The girls get nicknames, learn cheers, run around, have snack.
Easy.
So imagine my surprise when I got the email from her coach with the practice schedule.
Friday, 4 to dusk.
Saturday, game.
Sunday, 9:30-11 a.m.
Wait.
What? WHA?
Hi! They're FIVE! Two practices sandwiched around a game? Every day of the weekend?
And then.
We went to the Meet Your Team day to, you know, meet our team.
Eleven girls. And a coach who, thankfully, gets that sometimes the butterfly flitting about center field will be infinitely more fascinating than the game for these kids.
The day is also when I learned the kids all get their helmets airbrushed. With their nickname and a design of their choice.
Of course Sage had to have one. We drove to three different stores trying to find an XXS helmet to fit her little tiny head. During the ride we asked Sage what nickname she'd like.
"I like my name," she said.
"What about Sweet Lou?" I asked. It IS one of our nicknames for her, and, back in the 70s, I was a Yankees fan.
"No."
"Sage-a-nator?"
"No.
"Speedy? Turbo?"
"No."
"Sagey?"
So amidst Boo Boo Bear and Bam-Bam and Ally Cat and Totster and Little Hitter we have a Sagey.
That's my girl.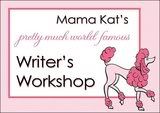 This post was based on the prompt "It has been said that kids these days are pushed into too many extra-curricular activities and are not given the freedom to play and be bored and to use their imaginations. Is this true?" from Mama Kat's writers workshop.
Tags: airbrush helmets, mama kat's writing workshop, my kids will end up being artists and pianists, Sagey, softball, sports
Posted in Mama Kat's Writing Workshop | 51 Comments »
---