Posts Tagged 'Nike Womens Marathon'
Tuesday, February 15th, 2011
"See the finish line? By those tents? Do you see it?"
I didn't. Not yet.
I wondered if I ever would.
I had come so far, but the road hadn't been what I'd expected. (more…)
Tags: just keep swimming, memoir, Nike Womens Marathon, the red dress club
Posted in Red Writing Hood | 63 Comments »
---
Thursday, September 16th, 2010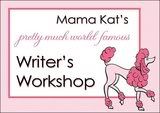 I had the goal of running a marathon before I turned 40.
But it was one of those things, like jumping out of an airplane or dancing naked on a bar in Rio, that I knew I'd never really do. It just sounded cool.
I'd joined a running group right before Sage turned one. And the following spring, my friend got the crazy idea that we should run a half-marathon. Since it didn't involve falling from a high distance or having some drunk guy do a body shot off me, I decided to give it a try. We trained for four weeks and ran it, doing reasonably well considering. (more…)
Tags: believe, mama kat's writing workshop, Nike Womens Marathon, Team in Training, TNT
Posted in Mama Kat's Writing Workshop | 65 Comments »
---