Sporting life
by Cheryl, posted on January 20th, 2011 in Mama Kat's Writing Workshop
---
I want my kids to play sports.
Yes. I said it.
Sports teach teamwork and respect and competition and how to win and, almost more important, how to lose. Plus, you run around a lot.
It has not occurred to me to search out art classes. I haven't looked for piano lessons.
Not because I don't think these things have value. They absolutely do. It's just not on my radar. Now, if one of them comes to me and specifically asks, then yes, I will explore those opportunities for them (and in full disclosure, Sawyer gets to go to a science camp in the summer).
Let me be clear: my kids play outside, they ride skateboards and Razors and bikes. They run around like maniacs with swords and nerf guns. Sage plays with Barbies and My Little Pony. Sawyer plays his DSi and with his Bey Blades.
They are even allowed to just veg. Because I believe in down time. I do.
But when it comes to extra stuff?
Summer is swimming. Fall is soccer. Winter is gymnastics for Sage and since Sawyer didn't want to play basketball, he got a few months off. But spring? Little League.
For Sage, it's her first year playing softball.
I heard it was cute. The girls get nicknames, learn cheers, run around, have snack.
Easy.
So imagine my surprise when I got the email from her coach with the practice schedule.
Friday, 4 to dusk.
Saturday, game.
Sunday, 9:30-11 a.m.
Wait.
What? WHA?
Hi! They're FIVE! Two practices sandwiched around a game? Every day of the weekend?
And then.
We went to the Meet Your Team day to, you know, meet our team.
Eleven girls. And a coach who, thankfully, gets that sometimes the butterfly flitting about center field will be infinitely more fascinating than the game for these kids.
The day is also when I learned the kids all get their helmets airbrushed. With their nickname and a design of their choice.
Of course Sage had to have one. We drove to three different stores trying to find an XXS helmet to fit her little tiny head. During the ride we asked Sage what nickname she'd like.
"I like my name," she said.
"What about Sweet Lou?" I asked. It IS one of our nicknames for her, and, back in the 70s, I was a Yankees fan.
"No."
"Sage-a-nator?"
"No.
"Speedy? Turbo?"
"No."
"Sagey?"
So amidst Boo Boo Bear and Bam-Bam and Ally Cat and Totster and Little Hitter we have a Sagey.
That's my girl.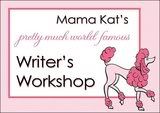 This post was based on the prompt "It has been said that kids these days are pushed into too many extra-curricular activities and are not given the freedom to play and be bored and to use their imaginations. Is this true?" from Mama Kat's writers workshop.
Tags: airbrush helmets, mama kat's writing workshop, my kids will end up being artists and pianists, Sagey, softball, sports